Comprehensive Life-Safety Services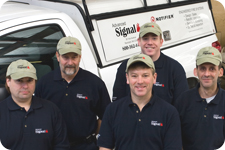 At Advanced Signal Corp. we understand that our success comes only through the success of our customers. So we never try to make just a sale, we always try to build lasting partnerships. The Advanced Signal team will work with you at every step of the process, from initial design to final test and inspection, to ongoing service, maintenance and monitoring.
Advanced Partnership Program
Our Advanced Partnership Program is an end-to-end solution for business fire alarm system design, installation, maintenance and monitoring. Here's how it works:
Front End: We'll help early in the process, supporting your work in design, value-engineering, estimating and specifications. Getting the details right up-front reduces your risk.
On Site: We'll be on the job site, hand-delivering the system components, working with the foreman and crew to leverage best practices for installation to avoid costly mistakes.
Finish Line: We'll handle the final connection and programming of the panel. We'll make sure the system is fully operational and passes all required inspections on time.
Long Term: We'll be there for you after the job is done, for any follow-up needed. We offer comprehensive test and inspection, maintenance and monitoring services, for all business fire alarm systems, whether we provided them or not.