Partnering with Architects
and Engineers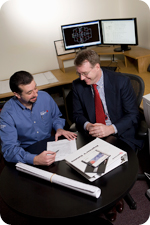 The Advanced Signal Corp. team works closely with architects and engineers in eastern New England, bringing our field experience to the table, along with up-to-the-minute knowledge of evolving local codes and systems capabilities. This helps to design business fire alarm systems that are optimized for both safety and cost.
Advanced Signal is a authorized Engineered Systems Distributor for Notifier. Our systems consultants are NICET Level IV certified. We have an in-house engineering department with CAD capability to assist as needed. We maintain a continuous education program for our technical staff, including on-site factory training at Notifier's state-of-the-art training facility, so we keep pace with the leading edge of their systems' capabilities.
We partner with architects and engineers early in the design and specification process, because we know the bottom line is tight on every project, and the technical elements they have to manage are increasingly complex. Our partners leverage our experience in business fire alarm system design and installation, helping them speed their process without compromising on quality.
To put our experience to work for you — Contact an Advanced Signal systems consultant today at 781-963-2024.